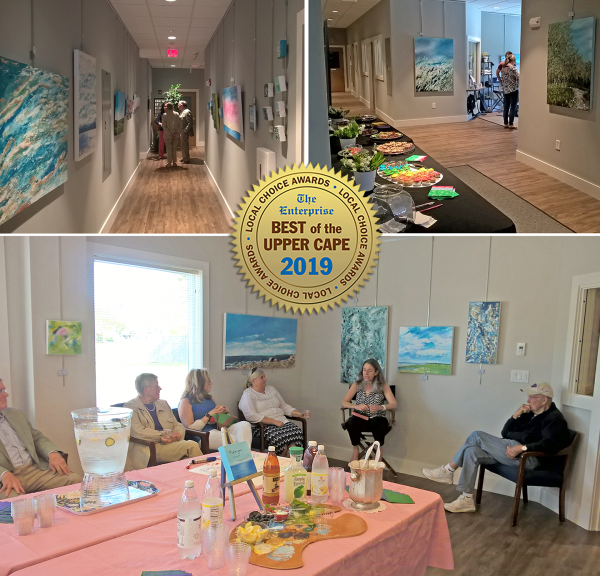 FCTV's award-winning Gallery supports the creative economy by hosting a variety of artists from around Cape Cod. Artists are invited to apply for one of twelve monthly exhibition opportunities. Emerging and accomplished artists alike are encouraged to submit their work. Artists are featured in the television show This Month at The Gallery.
THIS MONTH: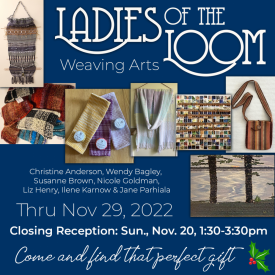 Weaving art by Christine Anderson, Wendy Bagley, Susanne Brown, Nicole Goldman, Liz Henry, Ilene Karnow & Jane Parhiala will be on display at The Gallery at FCTV from October 2 through November 29, 2022.
Christine Anderson completed a BS in Art from Cedar Crest College, Allentown, PA, and an MFA in Fibers and Handmade Paper from East Tennessee State University. She teaches weaving at the Falmouth Art Center. She recently attended an intensive paper-making class at Penland School of Craft in North Carolina. Says Christine: "I enjoy weaving on all types of looms, large floor looms, and small hand-held looms. My pieces frequently reference the natural world."
Wendy Bagley is a fiber artist, teacher, and professional weaver who has lived on the Cape for forty years. "My love for fiber and creating with my hands runs deep in my blood and in my New England and English ancestry," she says.
Susanne Brown grew up in Ridgewood, NJ. She attended the New England School of Art and Design in Boston to study commercial art. Her professional career was spent designing clothing store ads and consumer catalogs until retiring. After moving to the Cape, Susanne is once again pursuing her interest in weaving. "What I find fascinating about weaving is combining patterns with color and texture to create cloth. I love the challenge of designing my own pieces," says Susanne.
Nicole Goldman lives and works in Woods Hole, MA, with her husband Jonathan Goldman, a multi-media artist. Nicole has been involved in the arts and fiber from a young age. She focuses on texture and movement in her pieces whether woven, stitched, collaged or sewn, or any combination of these using traditional yarns and fabrics as well as natural, foraged materials, reclaimed and recycled or natural dyed fibers, and paper. Nicole is active in the Fiber Group of the Falmouth Arts Center and a member of the Textile Society of America.
Liz Henry was born in Shirley, MA, into a military family of eight. She lived in many different places including Hawaii where she graduated from the University of Hawaii. During that time Cape Cod was her home away from home. Liz currently teaches a beginning weaving class using SAORI Looms at the Falmouth Art Center. She is interested in the history of early quilt patchwork. Liz explains, "I appreciate the fact that I can weave on a loom that does not use electricity so even in a power outage I can weave. I like to experiment with weaving natural materials like bamboo and grapevines into my "web."
Cape Cod weaver Ilene Karnow has been designing and weaving joyfully colorful scarves, shawls, ponchos, lavender sculptures, and home textiles since 2010. Her focus is on creating high-quality, functional pieces that will last for years, maintaining their luxurious sheen, texture, and colors. She has studied weaving with the Boston Weavers Guild, Cranberry Weavers Guild, and with Becky Ashenden at Vavstuga Weaving School in Shelburne Falls, MA.
"As a child I loved fabric, says Jane Parhiala. "The women in my family lovingly taught me how to sew, knit, crochet, and embroider. For the past ten years, I've been weaving on a Japanese Saori Loom enabling me to make my own fabric. I make washcloths, placemats, pillows, table runners, and decorative wall hangings for the home. I call my studio KUTOA, the Finnish word for weaving."
To make an appointment to visit the exhibition, please email Tony Sadera at tony@fctv.org or call 508-457-0800, ext. 103.
A facemask and proof of vaccination are required for entry to FCTV. The Gallery at FCTV is located within the Falmouth Community Media Center, which is at 310 Dillingham Ave., easily accessible by Rose Morin Lane.